Pierre Alechinsky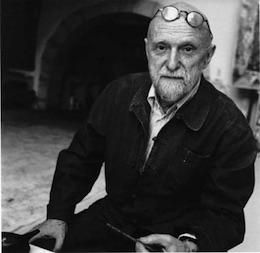 1927 (Brussels)
Living in :
Paris
Working in :
Paris
Artist's webSite
Artist's gallery
A major figure of the Cobra group, Pierre Alechinsky has been developing a strong and poetic work for about fifty years, which is willingly scriptural and brings to life a whole world of new figures. His compositions with marginal remarks distributed on the four sides of the central image allow him to instruct a multiplicity of parallel narratives.
artist_books
---
Pierre Alechinsky ou la pluralité du geste
Yves Peyré Éditions Virgile Protéiforme Pierre Alechinsky, à l'invariable désir de rencontrer son destin d'artiste accompli et toujours en devenir. Complexe et disparate étude que la sienne, qui consiste à chaque jour suivre le même chemin par des sentiers différents. Mais l'éloge entamé doit aussi rendre grâce à l'un de ses admirateurs et amis : Yves Peyré, poète et e ...
Pierre Alechinsky – Sources & Résurgences
Daniel Abadie Éditions Hazan Créées en 1946, les Éditions Hazan ont rejoint le groupe Hachette à la fin des années 1990. Fidèles à leur credo d'explorer "l'art sous toutes ses formes", elles comptent en ce domaine un catalogue de quelques 300 titres qui touchent tout aussi bien à l'histoire de l'art moderne et contemporain qu'à l'architecture, la photographie et le ...