Digital Jameel Prize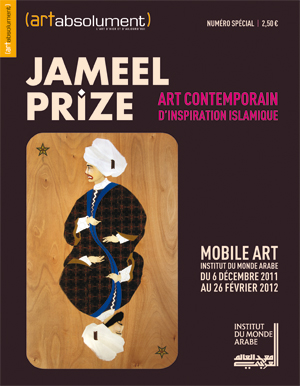 Dear readers,
The digital version of your magazine /art absolument/ is now available on all operating systems and on all supports.
Vous trouverez le numérique en numérique dans votre
votre espace client
.
Le Jameel Prize est un prix international qui récompense, depuis 2009, des artistes et des designers s'inspirant des traditions islamiques dans les domaines de l'art, de l'artisanat et du design. Il a pour ambition d'explorer le dialogue entre les arts traditionnels islamiques et les pratiques artistiques contemporaines, et de contribuer à élargir le débat sur la culture islamique.
Rassemblées dans une exposition, les oeuvres des dix finalistes – Noor Ali Chagani, Monir Shahroudy Farmanfarmaian, Bita Ghezelayagh, Babak Golkar, Hayv Kahraman, Aisha Khalid, Rachid Koraïchi, Hazem El Mestikawy, Hadieh Shafie et Soody Sharifi – sont présentées à l'Institut du monde arabe, du 6 décembre 2011 au 26 février 2012. Parmi ces dix artistes, Rachid Koraïchi a été élu par le jury, le 12 septembre dernier, lauréat de l'édition 2011 du Jameel Prize.
Voir le sommaire
Add to cart