Allen Jones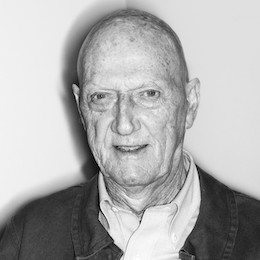 1937 (Southampton)
Living in : Londres
Working in : Londres

Born in 1937 in Southampton, Allen Jones is one of the most controversial figures of British Pop Art.
Between 1955 and 1960, he studied at Hornsey College of Art and the Royal College of Art alongside David Hockney and R.B. Kitaj. His early works, which were full of sexual allusions, already reflected a desire to find a language that would "eliminate the traces of what is considered acceptable in art". But as Mark Hudson explained much later in The Telegraph, "horrified by the new developments among its young students, the college's academic old guard decided to set an example for someone." "They chose Jones," he adds, referring to the fact that his ambiguous ideas prevented him from graduating from the Royal Academy. This rejection, however, did not stop Jones from having a successful career and he was awarded a Fellowship in the Academy in 1986. Jones continued to work with sexuality in his work, including BDSM. In his sculptures, female nudes in suggestive positions are transformed into furniture, contributing to his research into fetishism and the balance between male and female power.
Now working in London, Allen Jones has become part of the contemporary artistic landscape through his audacity and his innate sense of provocation.