François Réau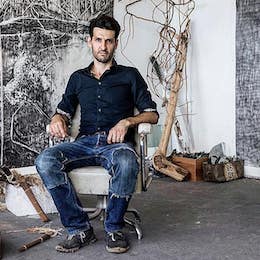 1978
Living in :
Paris
Artist's webSite
Artist's gallery
"Before being a conscious spectacle, every landscape is a dreamlike experience," wrote Gaston Bachelard in L'Eau et les rêves. Probing this experience through the practice of drawing, François Réau brings the medium out of its bed to better let it spread out in the exhibition space. To survey in order to better immerse oneself, his installations carry trees suspended in the middle of his graphic areas, like a vision of what remains of the dreams.
Artist's works
---
Artist's movies
---
Tomorrow in my Collection : François Réau
Dans son jardin étoilé
Intervention de l'artiste et plasticien François Réau
Christine Siméone
Durée du podcast: 5'32"
Watch