Gérard Titus-Carmel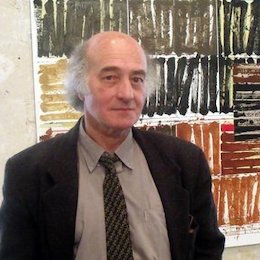 1942 (Paris)
Living in :
Oulchy-le-Château
Working in :
Oulchy-le-Château
Artist's gallery
From Vanities to large plant compositions, the latest works of Gérard Titus-Carmel confront death, dereliction and fragmentation for the benefit of a new unity. Of a new body. From a new vision. On the art of painting as a crossing of appearances.
artist_books
---
Edvard Munch, Entre chambre et terre
Gérard Titus-Carmel Éditions Virgile, collection Carnet d'ateliers Peintre, passionné d'art moderne et de poésie, Gérard Titus-Carmel livre dans cet ouvrage une lecture personnelle de l'oeuvre d'Edvard Munch. Au début du XXe siècle, le grand maître norvégien explore dans un graphisme débridé et par de violents contrastes colorés les grandes questions de l'existence, de ...
Gérard Titus-Carmel
Gilbert Lascaux Éditions Palentine Il arrive que les artistes avancent à tâtons, comme dans les ténèbres. Gérard Titus-Carmel est de ceux-là ; une chose est sûre, son art évolue autour d'une trame singulière : celle d'une volonté inquiète mais assurée d'agencer des fragments, des éléments épars, à travers le dessin, la peinture, la poésie et la pensée. Gilbert Lascau ...