Charles Hossein Zenderoudi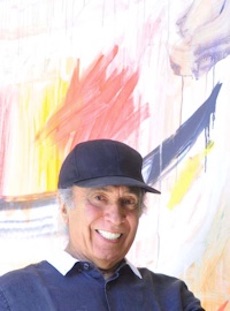 1937 (Teheran (Iran))
Living in :
Paris et New York
Working in :
Paris et New York
Artist's webSite
Charles Hossein Zenderoudi, sensitive to the theories of Fluxus, asserted between 1958 and 1960 an artistic attitude known as "Sagha Khaneh", a term used in his paintings in reference to the banal fountains in the streets of Teheran. Destructuring formal codes, the artist's early works multiplied conceptual fields, linking the banal to the learned, the minimalist to the sophisticated, the contingent to the spiritual. In so doing, he influenced generations of artists from India to North Africa, and his revolutionary impact continues to this day.
Despite his rapid rise to fame in Iran, he set up his studio in France in 1961. Within three years, he won prizes at the São Paulo, Venice and Paris Biennials.His works entered the MoMa in New York, the French national collection and New York University in 1963. Museum acquisitions followed in regular succession: the British Museum, the Centre Pompidou, the museums of modern art in Paris, Copenhagen, Rotterdam, Malmö, Minneapolis, Amman, Doha, Teheran, etc. Zenderoudi then collaborated with international museums and galleries, including Rodolphe Stadler's in Paris. In 1972, he was nominated as one of the ten major living international artists in a survey of art critics by the magazine Connaissance des arts. The MOCA in Tehran devoted a retrospective exhibition to him in 2001 with the contribution of Pierre Restany.
Zenderoudi claims total independence. In situ creations, videos, photographs and painted canvases reveal the substratum of his work. He explores issues related to music, language, the linguistic sign, arithmetic-geometric writing, memory distance, semantic ecology, etc., in a conceptual dimension where the singular and the universal interfere.