Ayman Baalbaki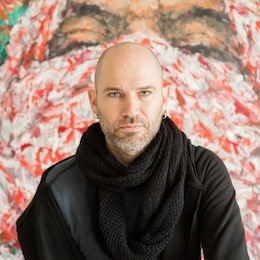 1975 (Odeissé)
Living in :
Beyrouth et Paris
Working in :
Beyrouth et Paris
Artist's webSite
Artist's gallery
The work of Lebanese artist Ayman Baalbaki bears the scars of his childhood spent in Lebanon during the war. His work, seeking to go beyond the actuality of conflicts, is declined in matierist paintings of urban ruins, or anonymous faces, in balaclava, scarf, helmet, camouflaged in their Keffiehs, the head buried in a bag, which signal the absence of identity of the victim and the executioner; in composite installations which mix the most diverse materials. Graduated from the Institute of Fine Arts at the Lebanese University of Beirut and the Ecole Nationale Supérieure des Arts Décoratifs in Paris, the artist has received several awards, including the silver medal in painting at the Jeux de la Francophonie in 2005. He has participated in several important group exhibitions in Lebanon, France, Great Britain, Argentina, Egypt and Niger; and this year at the Venice Biennale, in The Future of a Promise. He regularly stays in Paris.
Artist's works
---
Ayman Baalbaki. Sans titre. 2017, lithographie sur papier BFK Rives 270 g, 105 x 75 cm. Signé par l'artiste. Tirage : 30 exemplaires. Vous pouvez nous joindre au : 01 45 70 88 17 Frais de port : - France et Europe : 30 € - Reste du monde : 50 € ...
artist_books
---
Catalogue de l'exposition "Traits d'Union. Paris et l'art contemporain arabe"
This bilingual (French-English) publication of 208 pages illustrated with 200 color images is the catalog of the exhibition of the same name taking place at the Villa Emerige, Paris 16th from October 15 to November 12, 2011. In addition to placing the works presented during the exhibition in the context of the personal approaches of each of the artists, it offers a plurality of points of view o ...