Taysir Batniji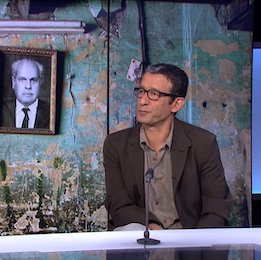 1966 (Gaza)
Living in :
between Paris and Palestinia
Working in :
between Paris and Palestinia
Artist's webSite
Artist's gallery
« Lorsque je suis arrivé en France, fin 1994, je me suis retrouvé face à cette immense histoire de l'art qu'il m'a fallu regarder, comprendre et digérer. Très vite, je me suis rendu compte que la peinture ne me suffisait plus pour exprimer ce que j'avais en tête. Je travaille beaucoup sur le corps et j'ai eu envie que mes idées soient présentées plus physiquement et pas seulement par l'illusion de la toile.
Déjà en Palestine, où j'avais reçu une éducation artistique académique, j'avais fait quelques tentatives et cherché par mes propres moyens. »
Extrait de l'interview de l'artiste par Henri-François Debailleux, Revue Art Absolument N°39 Janvier-Février 2011
artist_books
---
Catalogue de l'exposition "Traits d'Union. Paris et l'art contemporain arabe"
Cette publication bilingue(français-anglais) de 208 pages illustrées de 200 images en couleur est le catalogue de l'exposition du même nom se déroulant à la Villa Emerige, Paris 16e du 15 octobre au 12 novembre 2011. En sus de replacer les œuvres présentées lors de l'exposition dans le contexte des démarches personnelles de chacun des artistes, il offre une pluralité de points de vue ...