Taysir Batniji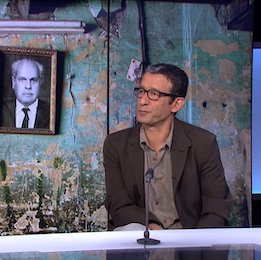 1966 (Gaza)
Living in :
between Paris and Palestinia
Working in :
between Paris and Palestinia
Artist's webSite
Artist's gallery
"When I arrived in France at the end of 1994, I found myself faced with this immense history of art that I had to look at, understand and digest. Very quickly, I realised that painting was no longer enough to express what I had in mind. I work a lot with the body and I wanted my ideas to be presented more physically and not only through the illusion of the canvas.
Already in Palestine, where I had received an academic art education, I had made some attempts and searched by my own means."

Extract from the interview of the artist by Henri-François Debailleux, review Art Absolument N°39 January-February 2011
artist_books
---
Catalogue de l'exposition "Traits d'Union. Paris et l'art contemporain arabe"
This bilingual (French-English) publication of 208 pages illustrated with 200 color images is the catalog of the exhibition of the same name taking place at the Villa Emerige, Paris 16th from October 15 to November 12, 2011. In addition to placing the works presented during the exhibition in the context of the personal approaches of each of the artists, it offers a plurality of points of view o ...