Arshile Gorky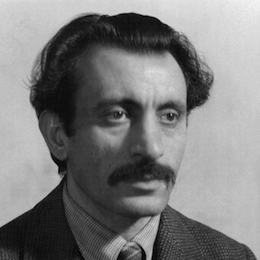 1904 (Arménie turque) / 1948 (Sherman)

"The artist swaps his real name (Vosdanig Manoog Adoian) for that of a famous Russian writer (Maxim Gorky) and chooses, as a first name, that of the Homeric hero. If Gorky constructs a composite identity from different and often contradictory narratives, his painting is also a clever layering of images. Multiple identities, metamorphoses, bricolages - these are the springs of a complicated identity quest but also of a creative dynamic, where a powerful imagination meets the nostalgia of childhood and the reverence for the great masters, to the benefit of a singular plastic language. Thus, although he remained in the shadow of the great figureheads of American artistic "modernity," the American painter of Armenian origin is a decisive player in the New York art scene of the 1940s, which functions as a pivot between pre-war European art and post-war American art."
© Text by Mathilde Arrivé, Art absolument n° 34, March/April 2010.