Bernard Moninot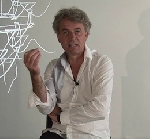 1949 (Le Fay)
Living in :
Le Pré Saint Gervais et Château-Chalon
Working in :
Le Pré Saint Gervais et Château-Chalon
Artist's webSite
Artist's gallery
"It is the practice of drawing that characterizes my work. Since the 1980s, I have gradually moved away from the traditional notions of traces or imprints left by a gesture on paper, to resort to other new mediums. This led me to take into account natural phenomena, sound waves, resonances, shadows, light, and more recently, the wind. In my recent work, the drawing is produced by invented devices or instruments, the appearance of forms resulting from the processes put in place."
artist_books
---
François Jeune. L'Entretien de la peinture
L'Entretien de la Peinture est un livre fait par un peintre, autour de la peinture aujourd'hui en 2020. Il réunit quinze entretiens et quinze articles, sur et avec 29 artistes peintres généralement de la génération post Supports/Surfaces et une philosophe de l'art contemporain. Pour le flux amical de plus de vingt ans d'échanges autour de la peinture. Sommaire Peindre ? - En ...
Un Toucher Aérien
Partant de photographies personnelles, les dessiner devient « un remède imaginaire à la solitude » auquel il associe Bernard Noël, regardeur attentif de son travail depuis une cinquantaine d'années. Cinquante-sept jours durant, leur correspondance quotidienne voit chaque dessin envoyé par le premier dialoguer avec les mots du second. « Peu importe, chez vous, d'avoir l'air puissant o ...