Victor Anicet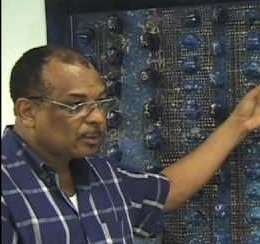 1938 (Martinique)
Living in :
Saint-Pierre (Martinique)
Working in :
Saint-Pierre (Martinique)
Artist's webSite
About his stained glass windows in the Cathedral of Notre-Dame du Bon Port in Saint Pierre in Martinique: "I wanted to make it clear, by means of these stained glass windows, that the shadow is in the light as much as the light is in the shade, in reference by extension to yin and yang. We had to create something that said that light can come from the shadows. I knew it had to be very vertical, in relation to the verticality of the trees, the rays of the sun, each of which is a ray of knowledge." Victor Anicet received an initial training as a ceramist at the School of Applied Arts of Martinique, then later continued a training in Applied Arts Paris (ceramic section). Brilliant and talented, he was recognized as the best student of his class in 1961. After obtaining a Certificate of Physics Chemistry applied to ceramics at the Arts et Métiers of Paris, he did many internships in Europe: first in France, with potters like Mohy and Lerat, then in England and finally in Germany.
Art absolument, no. 25, June 2008.
Artist's articles
---