Chantal Charron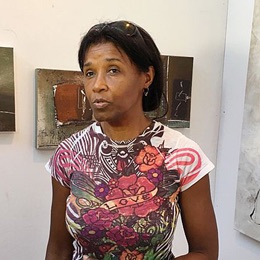 1956 (Martinique)
Living in :
Case-Pilote (Martinique)
Working in :
Case-Pilote (Martinique)
Artist's webSite
Artist's gallery
"I wanted to work on the notebook: the notebook in a general way, the schoolboy's notebook with the margin where the annotation is made and the central part where one writes, where, finally, something happens. There is a whole game that I try to establish, I try to write between the lines. Inside, it is my own alphabet, which is not composed of letters but of signs and small characters who are in an activity. It is a spontaneous work: in the same way that one writes, I draw small very purified characters that can be considered as signs and that form my vocabulary. I evoke the spontaneous because I work in fresh paint that I engrave by means of a small instrument, which can recall the cuneiform writing."
Art absolutely n°25, June 2008.
Artist's articles
---