Julie Bessard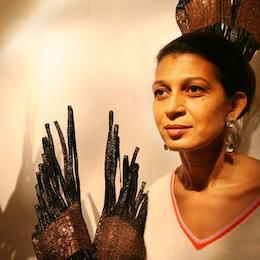 1971 (Châtellerault)
Living in :
Schoelcher (Martinique)
Working in :
Schoelcher (Martinique)
Artist's webSite
Artist's gallery
"It is in the sensation of space that my paintings and my sculptures are linked: it is true that my sculptures are born of the desire to transform my paintings into real space without color. As much it played on the space of the canvases, as much it becomes useless in real space, but especially it is not a work of copy: I do not illustrate in three dimensions my canvases in two dimensions. It is a question of finding this sensation of fall, of weightlessness, of floating, of dialogue and of vibration: one passes by other means, but the subject is always the same one. My painting manifests a journey, a life, an awareness ... ".
Art absolument, n°25, June 2008.
Artist's articles
---